WANT TO SHIP OUR SPIRITS OVERSEAS?
Our story begins with a remote, beautiful island in Scotland. Maybe you already know about the Isle of Coll, but for those of you who don't…
Coll is a remote island in the Hebrides – a chain of islands off the west coast of Scotland. It measures 13 miles by 3 miles and has a population of around 200.
A place of incredible natural beauty, warmed by the waters of the gulf stream, with stunning beaches, blankets of wild flowers, whitewashed cottages, and endless skies.
If you have never visited, we really think you should.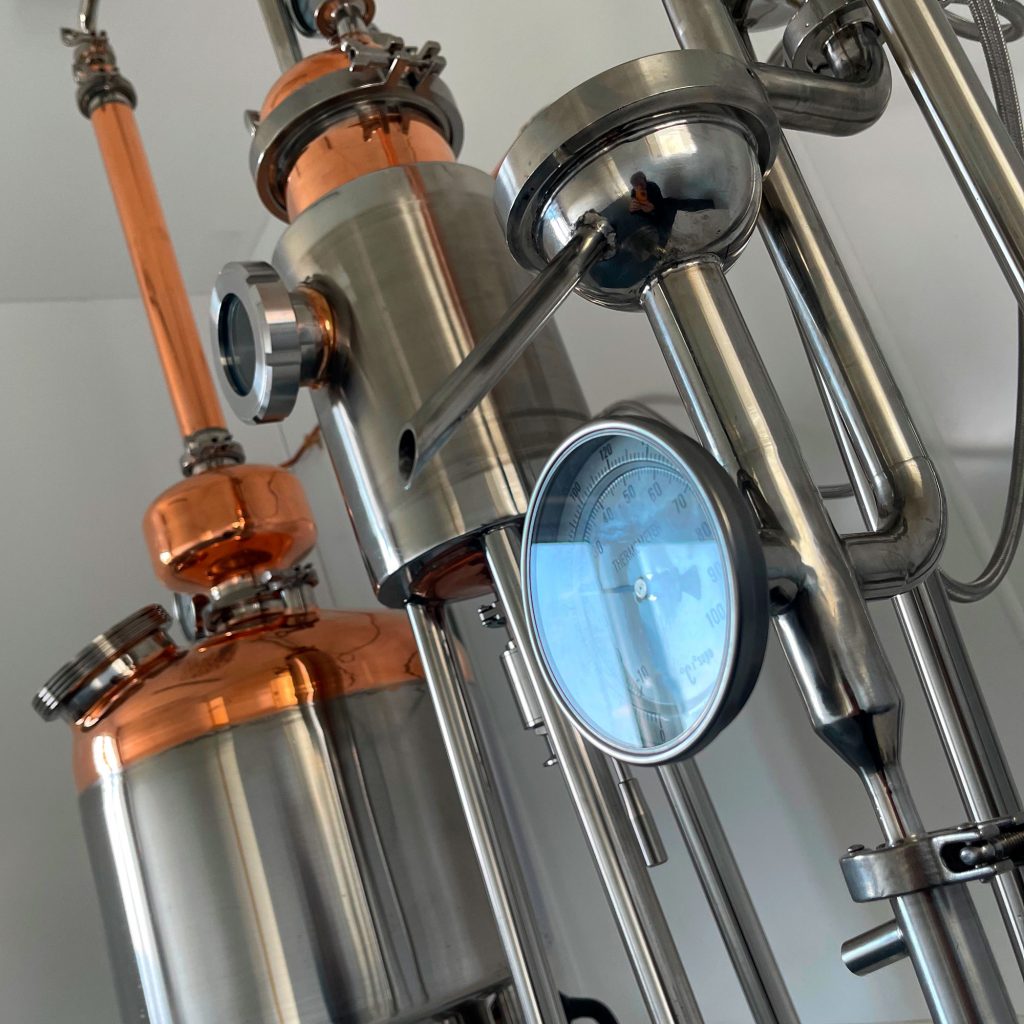 It started with two friends – Dougie and Andrew – who have strong family connections to the island. Growing up, they spent their long summer holidays there and even then, would discuss all sorts of business ideas.
Fast forward a lot of years and a lot of ideas, when one evening the idea of a distillery was born.
There had never been a legal distillery on the island, however there was a long tradition of illicit stills, and the sea and land provide a treasure trove of botanicals that have been used for generations to provide unique flavours.
If the idea was easy, making it all happen took a bit more time…
We have built a small distillery on the island. The distillery has a 50 litre still, allowing us to produce spirits in very small batches of around 80 bottles at a time.
We now have three handcrafted spirits in our range, and we are very proud of them all!
In making our spirits we use several local botanicals which are foraged on the island by Charlie, our chief forager. We are also very thankful to the Royal Society for the Protection of Birds (RSPB) who allow us to access to their lands to collect the botanicals.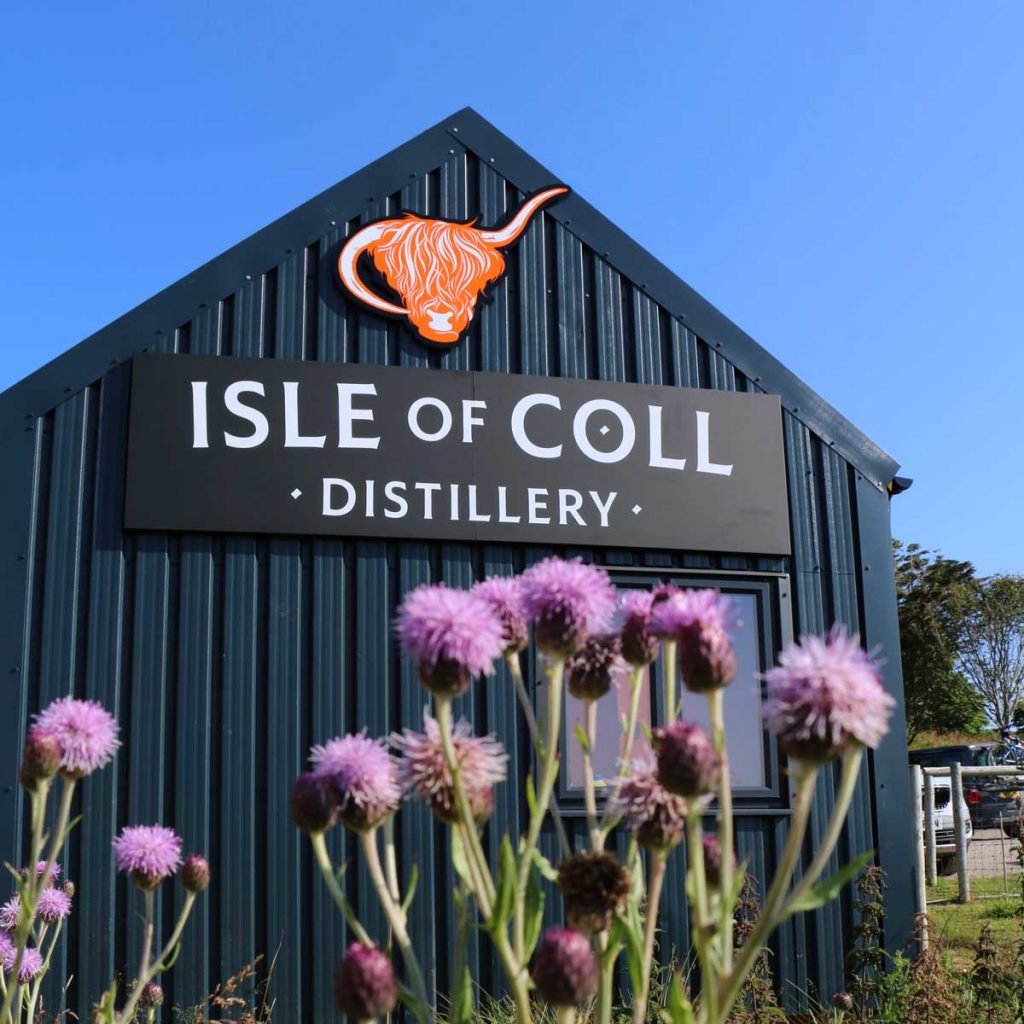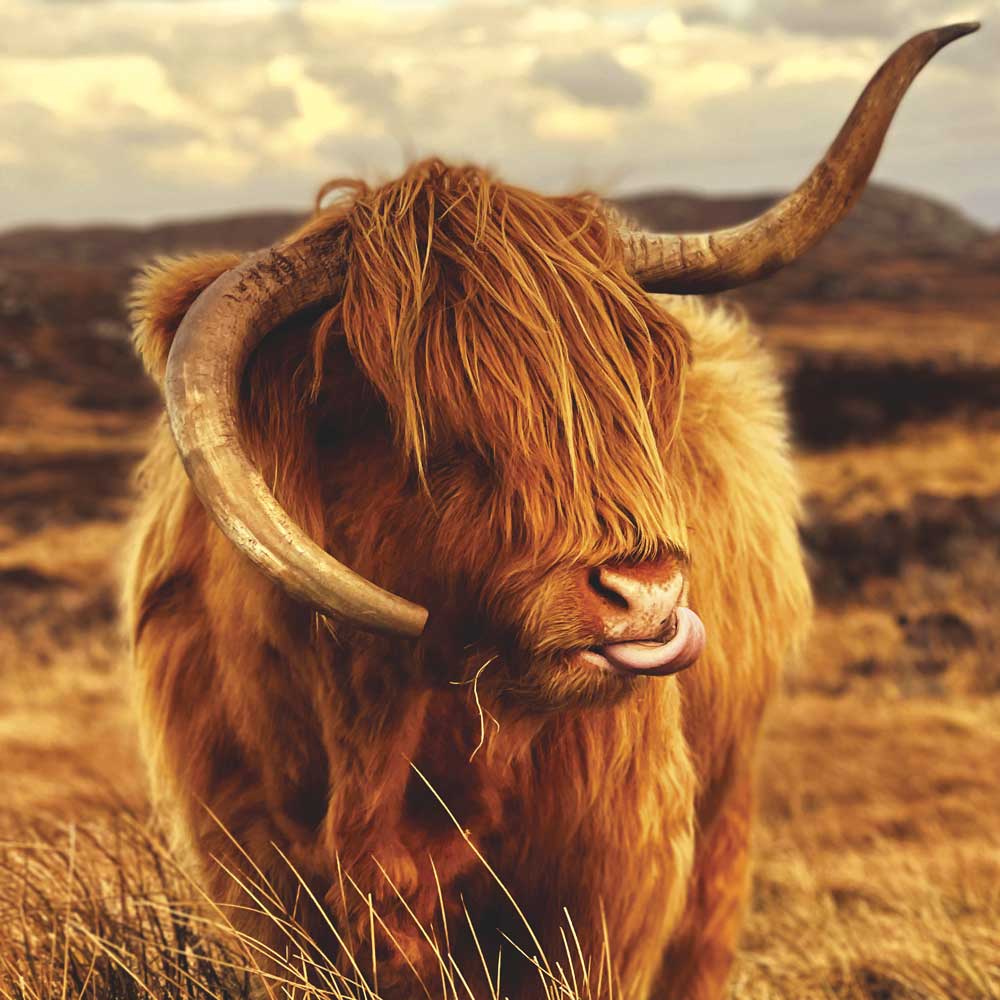 Our distinctive branding has been developed together with Ross of Coll, a talented local designer who lives on Coll.​
The logo for our Company features the Twisted Highlander cow – a much photographed local celebrity, with unusual horns – very unique, just like our products.
Ross has also created a range of merchandise, have a look…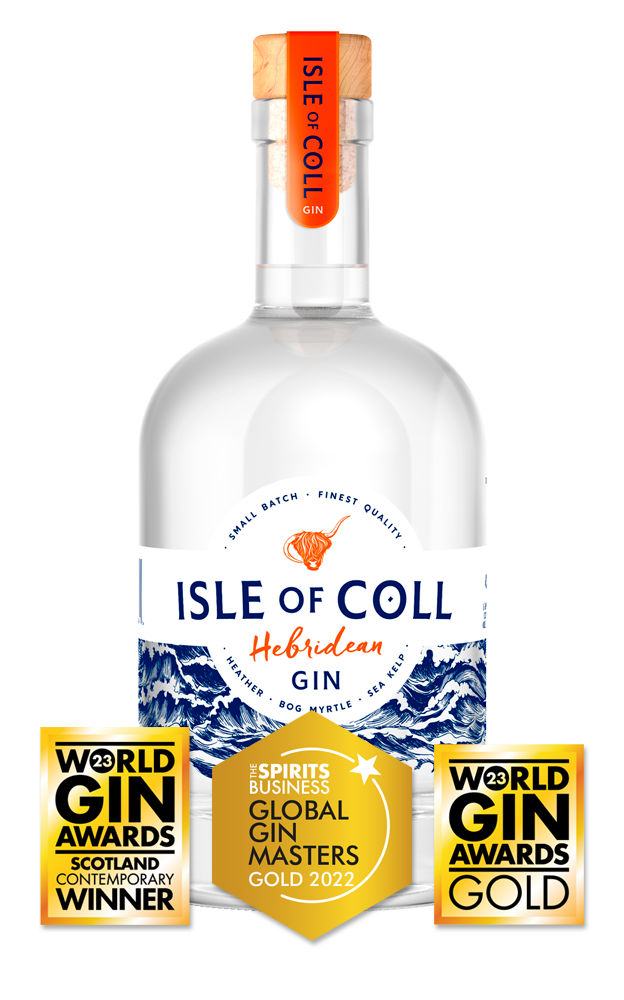 Isle of CollHebridean Gin
In the wave of the gin renaissance, we knew what we wanted our first product to be – it was time that Coll had its own gin.​
Setting out, we knew exactly what we wanted – a smooth dry gin that that would create the perfect gin and tonic. One that captured the feeling of those warm summer evenings on the island, when the lighting is at its most magical – with sea and land bathed in the most beautiful hues of blue and green.
To develop the perfect recipe for our first product, we turned to Colin, an accomplished chef who grew up on Coll. His knowledge of the islands botanicals and experience in producing spirits brought us to the smooth and distinctively accented gin – infused with 10 botanicals, including heather, bog myrtle, and sea kelp foraged on the island, along with several exotic flavours, including coriander, cinnamon, and star anise.
Our Hebridean Gin is very versatile – perfect with tonic or other mixers, and also surprisingly smooth when served neat.
ISLE OF COLLHEBRIDEAN GORSE GIN
Building on the great reception we received for our Hebridean Gin, we decided to create a flavoured gin.
The island is full of inspiration and as the gorse bloomed all over the island, with their vibrant yellow flowers and beautiful scent, we realized that this was would be a perfect flavour for our gin.
Our Gorse Flower Gin is a classic dry gin recipe, combining both local and exotic botanicals together with locally foraged gorse flowers. The result is exquisite – a smooth gin with the gorse flowers adding a floral accent with hints of vanilla, almond and coconut.
We think the best serve is over ice, with a light tonic and your favourite garnish. This perfectly highlights the flavour and bouquet of the gorse flower.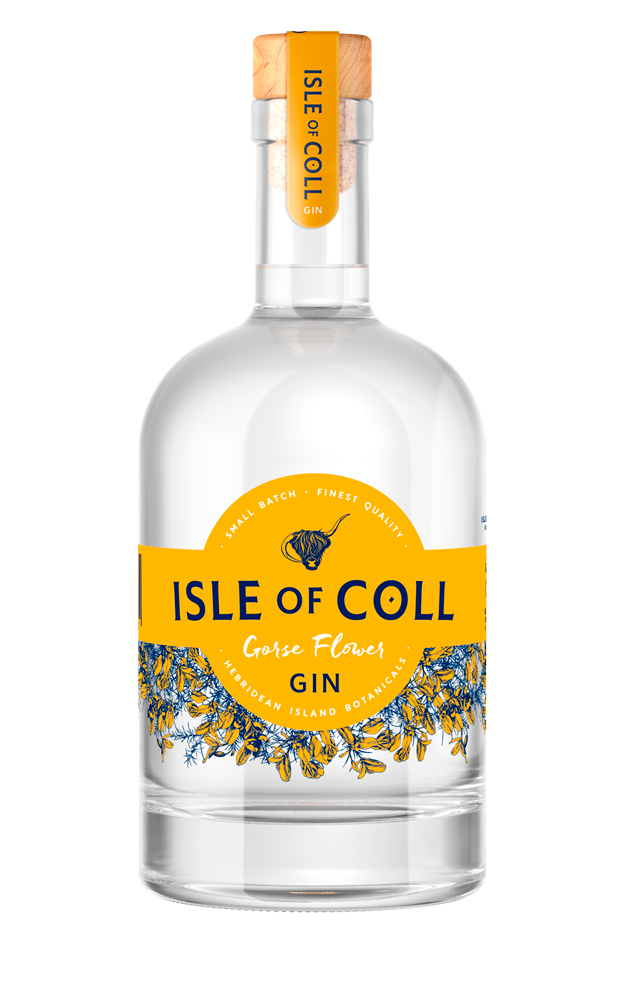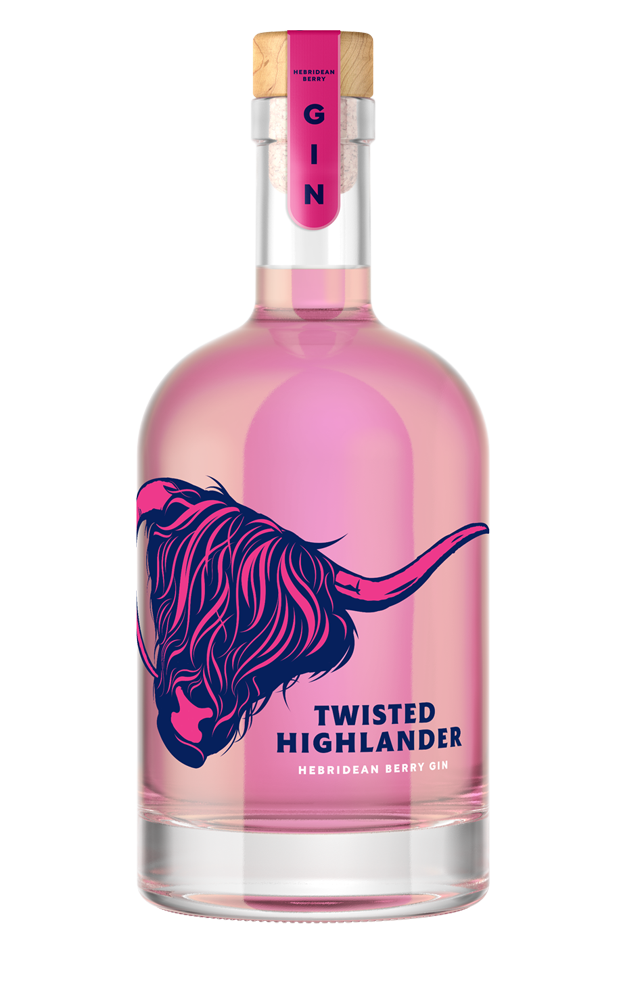 TWISTED HIGHLANDER
HEBRIDEAN BERRY GIN
The future is bright! Very bright! And we think our favourite cow looks just wonderful in electric pink.
And inside the bottle we believe you will find a berry gin to match the very best.
We start with a classic dry gin recipe, loaded with botanicals from the island. This is then infused with local, handpicked, brambles and strawberries. (For our southern cousins, brambles are what you call blackberries – only ours are better!)
Smooth tasting, with the subtle natural sweetness of the berries, our Hebridean berry gin is best served with a classic Indian tonic water. If you have them to hand, you can also add in some more dark berries as a garnish…
TWISTED HIGHLANDER
HEBRIDEAN SPICED RUM
Scotland has had a long standing love affair with rum. For many years it was the most popular drink in the country, especially in rum punches, until high taxes finally led to its decline. However the traditions of mixing, blending and maturing have never been lost and in recent times there has been a resurgence in its popularity.
We are delighted to build on these long traditions with the launch of our Twisted Highlander Hebridean Spiced Rum. A ridiculously smooth premium dark rum, distilled with a number of botanicals (including many from the island) to add a gentle sweetness and spiciness.
Perfect to sip neat or to drink with your favourite mixer. Or maybe you want to recreate a little history by making a rum punch!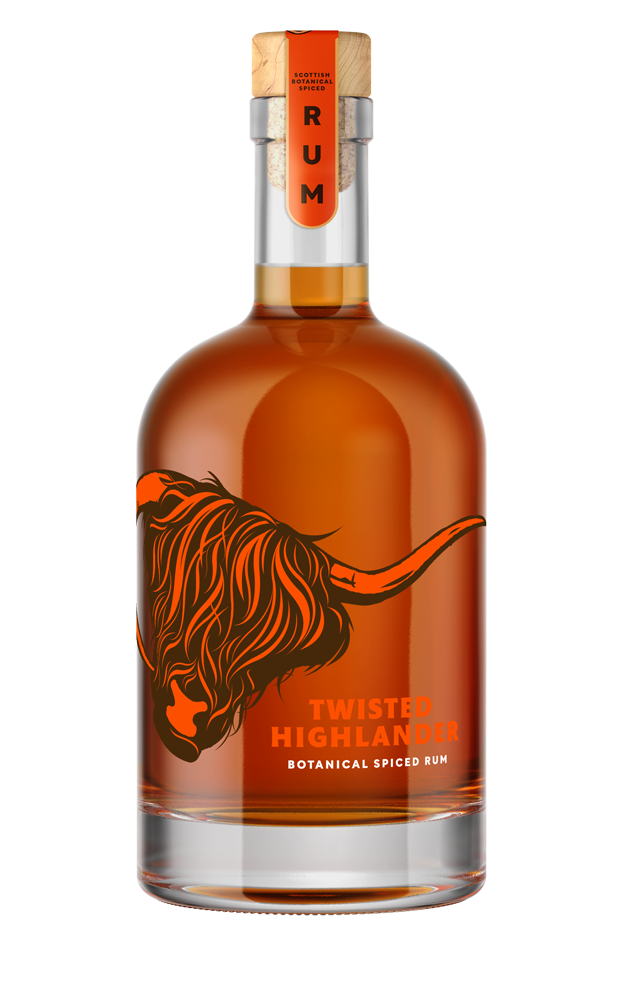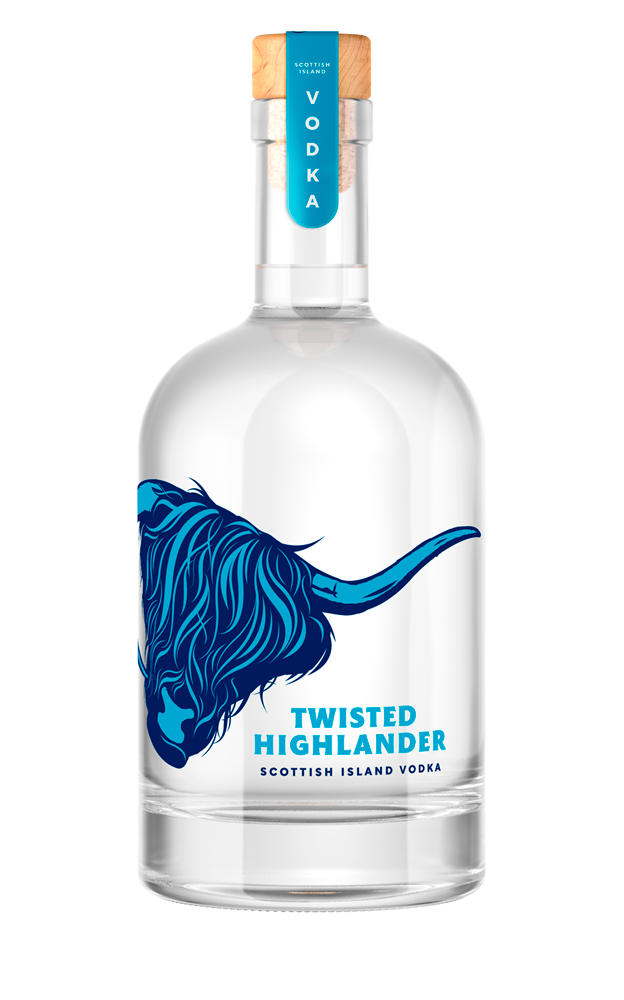 TWISTED HIGHLANDER
HEBRIDEAN ISLAND VODKA
Vodka is one of the most popular spirits in the world, however there are very few Scottish examples. This is something we felt had to be put right, and so we decided to create a premium Scottish Island Vodka.
Our vodka is a smooth, pure, grain-based spirit, distilled in small batches using island water.
Why Twisted? Well… it could be after our favourite cow – the famous and distinctive highlander who wanders the island. Or it could be because of our special distillation technique which adds a twist of the Hebrides to the vodka. Or maybe it's something else… it's our secret!
Perfect for sipping or mixing – best served chilled.